Behr's 2019 Color of the Year is the 2019 home decor trend you will not want to miss!
Behr 2019 Color of the Year
Behr recently announced their 2019 Color of the Year, Blueprint. Every year, they carefully choose a new color, and it instantly becomes one of their most popular choices.
If you look back at the choices from years past, you can see why.
They always pick gorgeous tones, that could satisfy any palette. This year the choice is BLUEPRINT. It is a beautiful soft blue hue.
I have been so READY to update our side door, and I thought that Behr Blueprint would do the trick.
The color is timeless. In Behr's press release, they explain the color as a "universally appealing hue [that] provides a steady stream of positivity and is poised to be an instant classic for years to come".
I love anything that brings positivity and good vibes, and if you have been following my blog, then you know I like to paint doors joyful colors, just like I did
here.
Behr's Blueprint 2019 Color of the Year
This true-blue hue really set the tone for my Fall door makeover. I went to my local Home Depot and got a sample.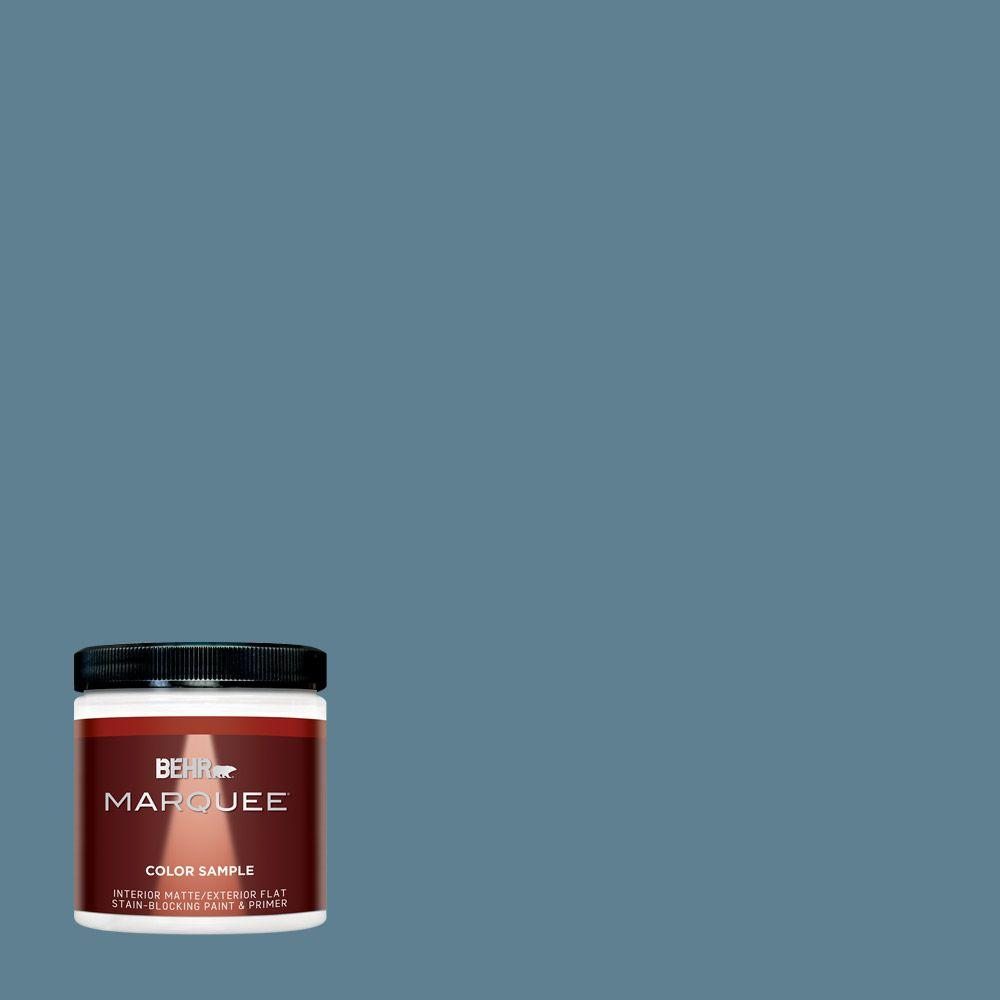 A sample is all you will need if you want to paint a door. If you have a bigger project in mind, like painting an entire room, then go here.
We have painted many projects throughout the years. I have found that there is a particular order you should follow when painting a door.
Also, use a high-end brush or foam-roller, it really does make a HUGE difference.
Remove the hardware or use painting tape. Clean all the dirt and grime off of your door.
Any degreasing cleaner should work. I usually use Windex
. Let the door dry, then "get your paint on".
How To Paint A Door
The order I always follow when painting a door is:
First, paint all the inset parts. You will have to use a paintbrush or foam brush to get into every crook and cranny.
Then you can paint all the raised panels.
Follow the grain on the rest of the door which should be:
Painting vertically between the panels.
Painting horizontally above and below the panels.
Painting the entire vertical edges of the door.
Let dry for a couple of hours, then apply another coat. Two coats will usually always do the trick.
DIY Fall Wreath
We couldn't complete this "Fall Door Makeover" without a new wreath.
I went to Hobby Lobby and picked up my wreath supplies: 24-inch grapevine wreath, two dark purple peonies, one green hydrangea, and a wooden "hi" sign.
This was a quick craft, that I put together in under five minutes.
What a gorgeous fall wreath it turned out to be!
The purple really brings out the blue in the door. To show just how simple it is, I made a little video tutorial for y'all.
Even though I got my wreath supplies at Hobby Lobby, if you don't have one close to you, they have similar supplies on Amazon.
They are not exactly like mine, but pretty darn close.
Happy Fall Y'all! I would love to see pictures of your fall wreaths 🙂
Bonus: More Fall DIY Crafts
DIY Farmhouse Pumpkins – Dollar Tree Hack
Ultimate Fall Cleaning Checklist